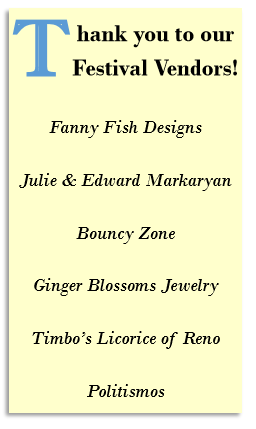 ●Fanny Fish Designs
Fanny Fish is a San Francisco-based artist. Her limited edition jewelry responds to an exclusive market demanding the highest quality and distinctiveness.
Her collection has been featured in local publications and can be found at leading boutiques from Boston to San Francisco and selected artist craft fairs including prominent Kennel Club competitions and Greek events.
●Julie's Gifts
Items from Greece, icons, jewelry and home décor, hats, scarves, toys, various accessories for adults & children
●Bouncy Zone
Slide & obstacle course for kids!
●Ginger Blossoms Jewelry
Beautifully designed and crafted with gemstones that are hand selected from all around the world. Marne Sherman of Ginger Blossoms Jewelry puts her heart & soul into every piece of jewelry she crafts in her Reno, NV studio. This makes her creations one of kind art pieces that look stylish with every outfit.
●Timbo's Licorice of Reno
Timbo's licorice ropes are loved by many because of the assortment flavors. You will be able to choose from over 30 different licorice rope flavors that most candy lovers don't know about!
●Politismos
Politismos gives visitors the chance to explore Greek history and culture, from modernity to antiquity.